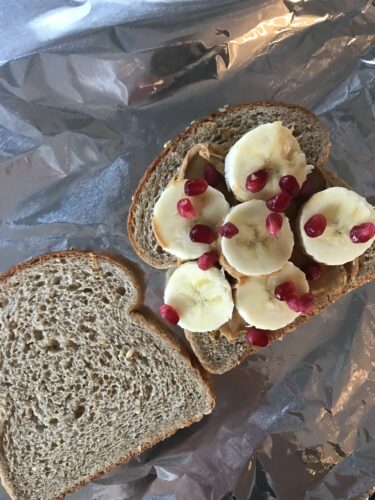 I'm always looking to save money on healthy foods and create recipes that are easy enough for anyone to prepare. Healthy, nourishing food doesn't have to be more expensive than junk. Here are some stellar examples.
Breakfasts
Kick off the day with any of these quick and easy breakfasts. Frozen fruit and pantry staples like nut butter and salsa elevate a meal in seconds.
Peanut butter + whole grain bread + sliced banana = healthy PB sandwich
Frozen fruit + plain Greek yogurt + 100% fruit juice = fruit smoothie
Whole wheat tortillas + eggs + salsa = breakfast burritos
Frozen waffles + peanut butter + fruit = loaded waffles
Bagel + eggs + tomato + avocado = egg sandwich
Lunches + Dinners
Healthy canned options like tuna, beans and olives are some of the secret weapon in these healthy meals.
Pasta + tuna + canned beans + Italian dressing = tuna pasta salad
Canned beans + canned tomatoes + chili powder + canned corn = veg chili
Wheat tortillas + Rice + Salsa + cooked chicken + Avocado = bean burrito
Canned soup + pasta or canned beans = extra satisfying soup
Black olives, chickpeas, bell pepper + red onion + balsamic vinaigrette = chopped salad
Bagels + marinara + part skim mozzarella = pizza bagels
Rice + frozen veggies + tofu + teriyaki = tofu stir fry