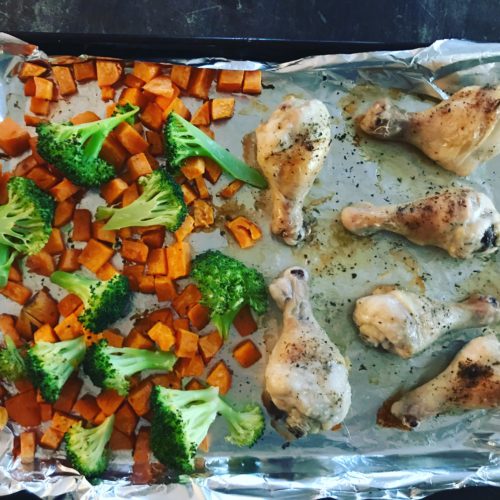 It doesn't get easier than this healthy one pan meal.
Serves 4 to 6
6 chicken drumsticks
3 medium sweet potatoes
1 tablespoon olive oil
½ teaspoon kosher salt
¼ teaspoon freshly ground black pepper
2 teaspoons dried seasoning mix (such as Greek Seasoning from the allspicery)
2 cups broccoli florets
Preheat oven to 450-Line a sheet pan with aluminum foil and a piece of parchment paper. Place drumsticks on one side of the sheet pan and the sweet potatoes on the other. Season everything with olive, salt, pepper and seasoning mix. Place in the oven and cook for 25 minutes. Open the oven and add the broccoli on top of the sweet potatoes; cook for an additional 10 minutes. Allow to cool for 10 minutes before serving.
Nutrition Info for 6 serving: Calories: 300; Total Fat: 15g; Saturated Fat: 4g; Carbohydrate: 15g; Protein: 26g Sodium: 249mg; Fiber: 3g