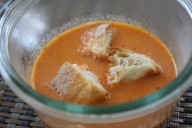 A warm and cozy soup doesn't need to take hours to make. Rich in antioxidants like vitamin C and lycopene, this soup is way better than anything out of can AND it's just as easy to make.
Serves: 2
1 cup prepared marinara sauce
2 cups chicken stock (or low sodium chicken broth)
2 tablespoons heavy cream
Optional Toppings: whole grain crackers, croutons, crushed tortilla chips, shredded cheese
Combine marinara sauce and stock in a large microwave-safe bowl. Cover with plastic wrap and poke a few holes in the top. Microwave on high for 5 minutes. Remove from microwave and stir in heavy cream.
Nutrition Information Per Serving
Calories: 158
Total Fat: 8 grams
Saturated Fat: 4 grams
Carbohydrate: 15 grams
Fiber: 1 gram
Protein: 7 grams
Sodium: 582 milligrams
Cholesterol: 20 milligrams