Air Fryer Avocado Egg Rolls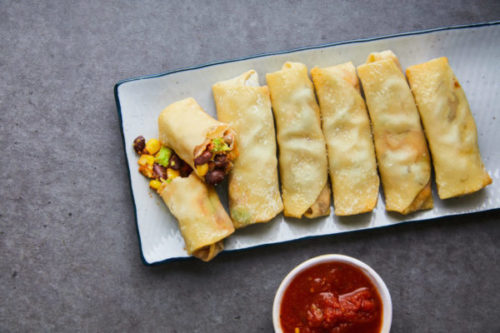 Making egg rolls in the air fryer will quickly become an obsession. Crisp and crunchy on the outside with a creamy and savory filling.
1 avocado, diced
½ cup black beans, rinsed and drained
2 tbsp salsa
¼ cup corn kernels
2 tbsp chopped fresh cilantro
8 egg roll wrappers
In a medium bowl combine avocado, black beans, salsa, corn and cilantro.
Lay an egg roll wrapper out on a flat surface with the pointed end facing up. place 2 tbsp of the avocado mixture in the center. Fold in the sides over the filling and then roll up from bottom to top.
Repeat with remaining wrappers and filling.
Heat air fryer to 300°F. Spray the egg rolls with canola oil spray and place in the air fryer basket.
Cook for 5 to 6 minutes, turning once half way through, until golden brown.
Remove from basket and serve.
Nutrition Info Per Serving (2 pieces): Calories: 290; Total Fat: 8 grams; Saturated Fat: 1.5 grams; Total Carbohydrate: 45 grams
Sugars: 3 grams; Protein: 12 grams; Sodium: 309 milligrams; Cholesterol: 0 milligrams
Fiber: 9 grams
Excerpted from Healthy Vegan Air Fryer Cookbook reprinted by permission of Alpha, a division of Penguin Random House LLC. Copyright © 2020 by Dana Angelo White