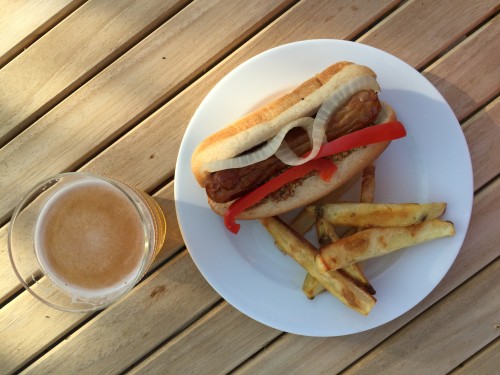 Working with Applegate has furthered my appreciation for food that is humanely raised and free of antiobiotics; their new line of dinner sausages is a perfect example. I've also been learning more about the craft beer craze while exploring the beauty of small batch beers made in nearby breweries. As you prepare for the upcoming holiday weekend and the summer season ahead, invite over some beer lovers and toss these sausages on the grill.
Beer Nutrition Facts (& Myths)
Yes it's true alcohol, including beer can be part of a healthy diet and has even been shown to help promote heart health when consumed in moderation (that's one drink per day for women and 2 for men). A 12 fl oz can or bottle of beer can contain anywhere from 90 to over 150 calories per serving depending on the alcohol content. The percent alcohol by volume (ABV) of craft beers are all over the map so check to see what you're dealing with. Three to five percent ABV is standard but some popular brewskies weigh in at 8 or 9%. If you're looking to keep the calories in check, choose a refreshing "session" IPA with a lower alcohol content. Now to dispel 2 of the most popular beer myths.
#1 Cooking
Sadly it's myth that all the alcohol (and calories) in beer magically cook away when exposed to heat. Cooking down beer will reduce the booze but it takes time. The longer the cooking time and the more aggressive the simmer, the more significant the reduction.
#2 Exercise
Beer has also been touted as a good choice for recovery after workouts. While the research isn't really there to back this up, there's nothing wrong with hydrating with water and other non-alcohol beverages after a work out, then following up with a celebratory cold one.
Perfect Pairings
The three new flavors of Applegate dinner sausages couldn't be more different so I matched them up with 3 different beers. Just like any food or beverage, beer is all about preference; there really is no right or wrong ….. just what you like.
Peach Jerk
This chicken sausage has just the right balance of sweet and spicy. Keep it light and pick up the sweetness of the peaches with a Grapefruit Hefeweizen. Or indulge in the spicy and choose an extra hoppy IPA like New York's Southern Tier 2XIPA or the oh-so popular Vermont brew, Lawson's Sip of Sunshine (if you can get your hands on some).
Chicken & Cheddar
Reach for something crisp and refreshing to go along with this smoky and delightfully cheesy sausage. My kids loved this one (no, we didn't give them the beer) but it was nicely matched with a English Style Pale Ale like Brooklyn Summer Ale from Brooklyn Brewery.
Beer Bratwurst
This pork sausage was my favorite! So flavorful and made with a local New Jersey beer. I matched it up with a local brew from my home state of Connecticut. Here's the recipe….
Slow Cooker Beer Brats
This recipe couldn't be easier and is great for entertaining. I recommend using a session IPA such as Two Roads Lil' Heaven – it's bright and fruity and an excellent compliment to these tasty pork sausages.
12 fl oz can beer
2 packages Applegate Beer Bratwurst
1 large red onion, sliced
2 large bell peppers, sliced
Whole grain rolls for serving
Pour beer into slow cooker then add onions and peppers. Tuck sausages into mixture then cover and cook on high for 3 hours, until vegetables are tender. Preheat outdoor grill or grill pan. Give sausages a quick sizzle on the grill and serve on rolls topped with the beer soaked onions and peppers.
Serves: 8 — Nutrition Info Per Serving:
Calories: 372; Total Fat: 23 grams; Saturated Fat: 7 grams; Total Carbohydrate: 25 grams; 
Sugars: 5 grams; Protein: 18 grams; Sodium: 959 milligrams; Cholesterol: 45 milligrams
; Fiber: 4 grams