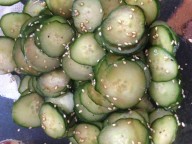 With so many cukes coming in from my garden, this 3-ingredient recipe is a family favorite. It's inspired by the best gardener I know, my mother-in-law. Serve as a side dish and stack leftovers on sandwiches and wraps.
Asian Cucumber Salad
Serves 6
6 cups sliced thinly cucumbers
2 teaspoons toasted sesame seeds
2 tablespoons low sodium soy sauce or tamari
Pinch kosher salt
Freshly ground black pepper to taste
Combine ingredients in a large bowl; toss and serve.
Nutrition Info Per 1 cup serving: Calories: 23; Total Fat: 1 g gram; Saturated Fat: 0 grams; Total Carbohydrate: 4 grams; Sugars: 2 grams; Protein: 1 grams Sodium: 154 milligrams; Cholesterol: 0 milligrams; Fiber: 1 gram