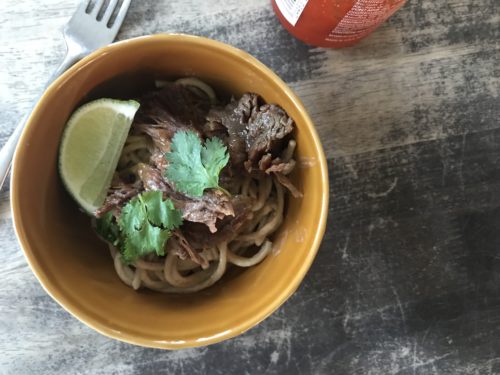 I'm madly in love with my Instant Pot but haven't been using it enough! Here is my latest creation for tender and flavorful beef that tastes like it simmered all day (but is ready in less than 90 minutes). Serve over noodles or tucked into warmed corn tortillas. Save the leftover savory broth for soup or extra dipping.
Serves 12
1 tablespoon canola oil
Bone-in chuck roast (about 4 pounds)
1/2 teaspoon kosher salt
3 tablespoons lightly packed brown sugar
2 teaspoons ground ginger
1/4 cup reduced sodium soy sauce
1 tablespoon Sambal Oelek
1/2 onion, sliced
Cilantro and lime wedges for serving
Heat oil in the Instant Pot on the "saute" function. Season the roast with salt and sear on all sides. In a separate bowl combine brown sugar, ground ginger, soy sauce, Sambal and onion; mix well. Once the meat is browned on all sides, add the sauce and 3/4 cup water. Lock the lid in place and set to HIGH pressure for 75 minutes. Allow for natural pressure release (about 15 minutes), open lid shred and serve.
Nutrition Per Serving: 230 calories; 5g fat; 20g protein; 234mg sodium