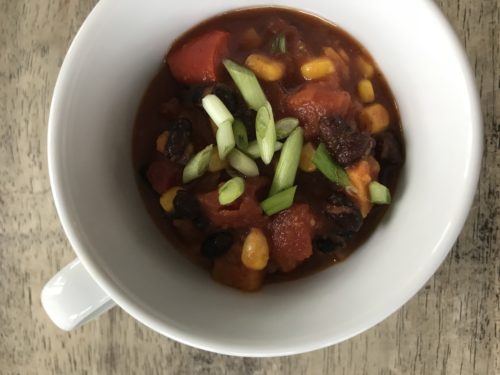 A meatless option with tons of texture, flavor, protein and fiber. Everything about this chili is satisfying.
2 teaspoons canola oil
1 cup chopped onion
1 clove finely chopped garlic
1 ½ tsp chili powder
½ tsp dried oregano
1(28oz) can diced tomatoes
1 (15oz)can black beans, rinsed and drained
1 red bell pepper, diced
1 teaspoon kosher salt
1 sweet potato, peeled and diced
¾ cup corn kernels
Suggested toppings: chopped scallion, plain Greek yogurt, shredded cheese
Set the pressure cooker to sauté function. Add oil and sauté onion and garlic until fragrant, about 2 minutes. Add chili powder and oregano, followed by canned tomatoes, black beans, pepper, sweet potato and salt. Cover and lock the lid in place and set to HIGH pressure for 15 minutes. Allow for natural pressure release which will take about 20 minutes. Remove the lid and stir in corn. Serve with desired toppings.
Nutrition Per Serving:
Calories 208; Total fat 4g; Sodium 566mg
Carbohydrates 38g; Dietary fiber 8g; Sugars 12g; Protein 9g