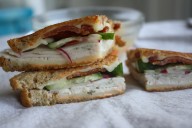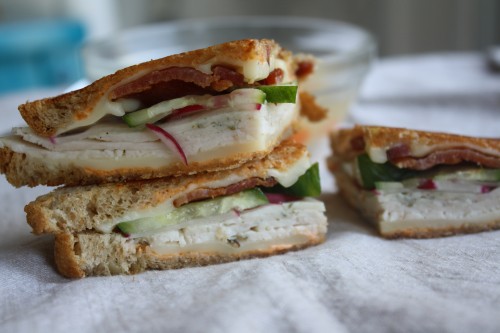 Turkey Panini with Chili Mayo
This is no ordinary grilled cheese sandwich. In this sponsored post, I'll take the flavor to another level with layers of Applegate turkey and Good Morning Bacon, plus veggies and a spicy sauce. #WhatsInYourSandiwch ?
1 teaspoon nonfat Greek yogurt
1 teaspoon chili sauce (Sriracha recommended)
1 teaspoon mayonnaise
2 teaspoons softened butter or trans fat free buttery spread
2 slices whole grain bread
2 slices low fat Swiss cheese
2 slices Applegate Turkey Breast
Thinly sliced cucumber and radishes, about ¼ cup total
1 slice cooked Applegate Good Morning Bacon
In a small bowl, combine yogurt, chili sauce and mayo, mix well and set aside.
Spread both slices of bread with butter on one side. Turn one slice of bread over and spread with half of the spicy mayo, then top with one slice of cheese, turkey, vegetables, bacon, and remaining slice of cheese. Coat inside of remaining piece of bread with mayo and place on top of sandwich.
Prepare sandwich using a preheated panini press or nonstick skillet. If using a skillet cook for 2 to 3 minutes per side, pressing down gently with a spatula, until cheese is melted and breads is golden brown.
Nutrition Info Per Serving
Calories: 307; Total Fat: 13 gram; Saturated Fat: 4 grams; Total Carbohydrate: 24 grams
; Protein: 27 grams; Fiber 4 grams