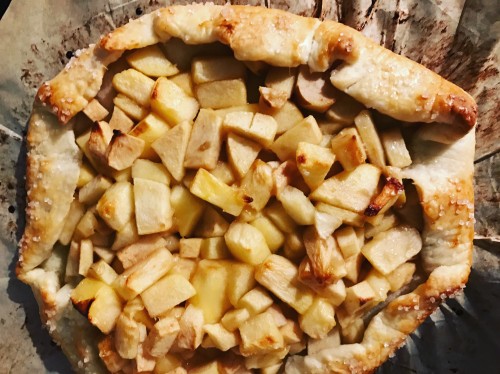 Swap this version for a traditional apple pie recipe and save 165 calories per serving!
Serves: 6
Crust:
1 cup unbleached all-purpose flour
½ teaspoon kosher salt
1 teaspoon sugar
6 tablespoons cold butter, diced
Ice water (about 2 tablespoons)
Filling:
3 medium apples, peeled and chopped
3 tablespoons sugar
¼ teaspoon ground cinnamon
1 tablespoon cornstarch mixed with 1 tablespoon water
1 egg, beaten
Sparkling sugar (optional)
Place flour, salt and sugar in a food processor fitted with a steel blade and pulse to combine. Add the butter and pulse until it is cut into small pieces. With the machine running, add ice water one tablespoon at a time until the dough comes together. Turn out on to a piece of plastic wrap and gently form into a disc. Place in the refrigerator to chill for at least one hour. Once chilled, roll out the dough into a 10-inch circle and place back in the fridge for an additional 20 minutes.
While the dough is chilling, prepare the filling. Combine apples, sugar, cinnamon and cornstarch-water mixture in a medium saucepan; mix gently and cook until warm and bubbly, about 10 minutes; set aside to cool.
Preheat oven to 425-degrees. Pour filling in the center of the dough, leaving a 2 to 3 inch border. Gently fold in the edges of the crust, going all the way around the filling. Brush crust with egg and sprinkle with sparkling sugar, if using. Bake for 20 to 22 minutes, until crust is golden and filling just begins to bubble. Serve warm or at room temperature.
Nutrition Facts Per Serving
Calories: 236; Total Fat: 12 grams; Saturated Fat: 7 grams; Protein: 3 grams; Total carbohydrates: 31 grams; Sugar: 12 grams; Fiber: 2 grams; Cholesterol: 31 milligrams; Sodium: 96 milligrams