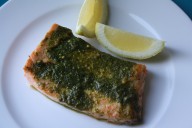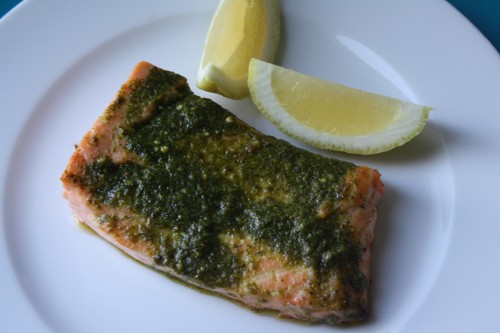 This pesto salmon packs the protein, flavor, and omega-3 fats. Use homemade or store-bought pesto or any of your favorite sauces for this recipe.
Serves: 4
1 ¼ pounds wild salmon, skin removed, cut into 4 pieces
2 tablespoons prepared pesto
Kosher salt and black peppers
Lemon wedges for serving
Preheat oven to 400-degrees F. Place salmon pieces on a sheet pan lined with parchment paper. Season with salt and pepper; roast for 10 minutes.
After 10 minutes of cooking, brush salmon with pesto and return to the oven for 5 minutes or until salmon is just cooked through.
Nutrition Information Per Serving:
Calories: 240
Total Fat: 9 grams
Saturated Fat: 1.5 grams
Carbohydrate: 14 grams
Fiber: grams
Protein: 25 grams
Sodium: 125 milligrams
Cholesterol: 50 milligrams