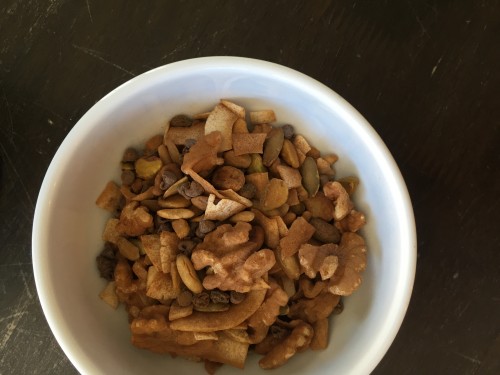 National Trail Mix Day is on the way and I've been craving a munchable snack. A good trail mix needs lots of elements – sweet, salty, crunchy and satisfying and this Mocha Crunch has it all. My pals at Nuts.com sent me a few products to experiment with and I was most intrigued by the coffee flour. It has a mild flavor, sprinkles nicely and adds a hefty dose of antioxidants, fiber and iron to recipes. Try out this naturally sweetened trail mix for breakfast with some yogurt or by the handful for an afternoon pick me up.
Mocha Crunch
Makes: about 3 cups
1/2 cup shelled pistachios
1/2 cup chopped walnuts
1/2 dried coconut chips
1/2 cup cacao nibs or mini chocolate chips
1/2 cup pumpkin seeds
1/2 cup dried currants
2 teaspoons coffee flour
Combine ingredients in a bowl and mix to combine. Store in an airtight container for up to 2 weeks.
Nutrition Info Per Serving (1/4 cup)
Calories: 203; Total Fat: 16 grams; Saturated Fat: 7 grams; Total Carbohydrate: 14 grams
Sugars: 5 grams; Protein: 5 grams; Sodium: 61 milligrams; Cholesterol: 0 milligrams
Fiber: 6 grams