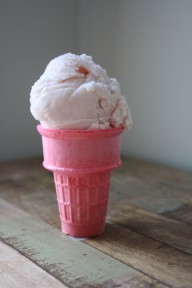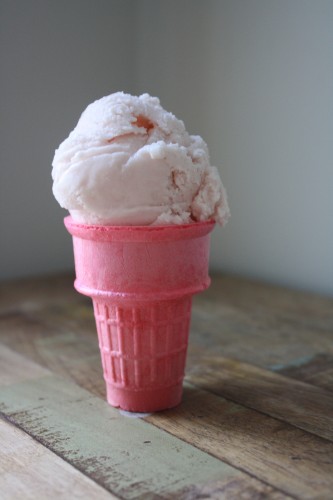 First off let's explain the difference between sorbet and sherbet (please refrain from calling it sher-BERT). Sorbet contains no dairy – typically a mixture of fruit, fruit juice and sugar. Sherbet contains some form of dairy – typically milk, cream, or a combination so it's lower in fat than ice cream or gelato.
I simply love the sweet-tart mixture of berries and lemon in this recipe – the creaminess of half and half mellows out the acidity just enough.
Strawberry-Lemonade Sherbet
This is a pretty forgiving recipe. I've made it with 1/4 cup of lemonade instead of lemon juice and it works well both ways. If you want to it prevent it from getting too icy – you can add 2 tablespoons of light corn syrup in place of the same amount of sugar.
Makes: 1 quart (8, 1/2 cup servings)
3 cups half and half (well chilled)
3/4 cup granulated sugar
1/4 cup strawberry sauce or strawberry puree
Juice and zest of 2 lemons
In a large bowl, whisk ingredients together. Transfer to an ice cream maker. Mix according to the manufacturer's suggestions, until thick and frosty (about 20 minutes). Transfer to a freezer-safe container and allow to harden in the freezer for at least 4 hours. Store in the freezer for up to one month.
Nutrition Info Per Serving: Calories: 193; Total Fat: 10 gram; Saturated Fat: 6 grams; Total Carbohydrate: 24 grams
; Protein: 3 grams