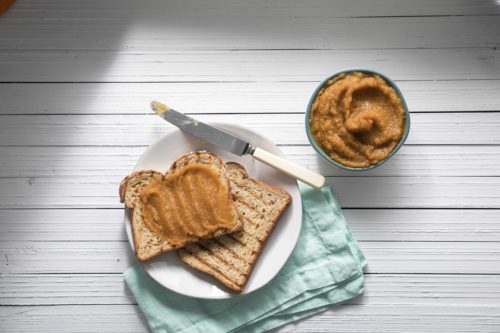 This velvety, caramelized sauce is low in sugar and amazing slathered all over whole grain toast, added to smoothies or used as a fat substitute in baked goods.
Makes 3 cups
3 pounds Gala or McIntosh apples, peeled, cored and roughly chopped
15 oz can pumpkin puree
1/2 cup water
1 tsp ground cinnamon
1/2 tsp ground ginger
Combine the apples, pumpkin puree and water in the inner pot. Stir well.
Cover, lock the lid and flip the steam release handle to the sealing position. Select Pressure Cook (high) and set the cook time for 10 minutes. When the cook time is complete, allow the pressure to release naturally (about 15 mins).
Remove the lid, and add the cinnamon and ginger. Using an immersion blender, puree the ingredients until a smooth consistency is achieved and no lumps remain.
Select Saute and cook the butter for an additional 25 minutes, stirring frequently, until the mixture thickens, develops a dark brown color and begins to caramelize. Select Cancel to turn off the heat, and allow the butter to cool slightly in the pot.
Ladle in sealable glass jar and allow to cool completely before sealing. Store in the refrigerator for up to 2 weeks.
Nutrition Info Per Serving (2 Tbsp): Calories: 27; Total fat: 0g, Carbs: 9g; Fiber: 2g; Protein: 0g
Excerpted from Healthy Instant Pot Cookbook reprinted by permission of Alpha, a division of Penguin Random House LLC. Copyright © 2018 by Dana Angelo White