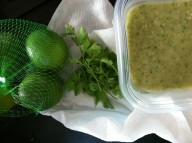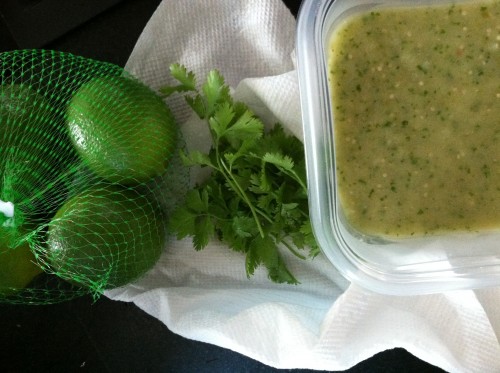 This last minute Father's Day recipe was a big hit! Perfect with tortilla chips or fish tacos.
Roasted Tomatillo Salsa
Makes about 3 cups
6 large tomatillos (about 1 ½ pounds), quartered
1 clove garlic
½ medium white onion, chopped
1 jalapeno pepper, roughly chopped
Olive oil
¾ cup fresh cilantro
Juice of ½ lime
Preheat oven to 400 degrees F. Place tomatillos, garlic, onion, and jalapeno on a sheet pan. Drizzle with 2 teaspoons olive oil and season with ¾ teaspoon salt and black pepper to taste. Roast for 20 minutes, until tomatillos are tender, set aside to cool slightly. Place roasted vegetables with cilantro and lime juice in a food processor and pulse until smooth. Serve chilled or at room temperature.
Nutrition info per tablespoon: Calories: 5; Total Fat: 0 gram; Saturated Fat: 0 grams; Total Carbohydrate: 1 gram; Sugars: 1 gram; Protein: 0 grams; Sodium: 18 milligrams; Cholesterol: 0 milligrams; Fiber: 0 gram