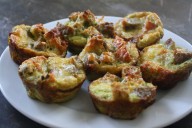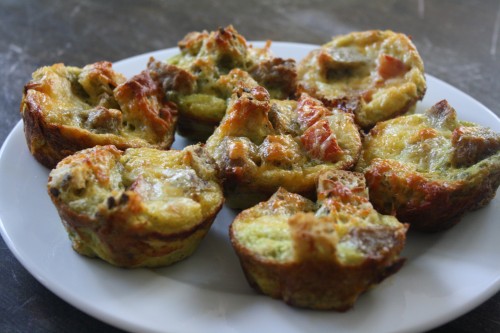 I'm a long-time fan of the breakfast casserole, but rarely see a recipe that doesn't call for a plethora of high fat ingredients. So I came up with a recipe of my own – it's been pre-approved by my hubby and the kids!
For a can't miss breakfast this Father's Day, don't forget the sausage. I'm lucky enough to serve on the advisory board for Applegate and the better-for-you options are endless. I like using diced sausage patties for this recipe but links work well too.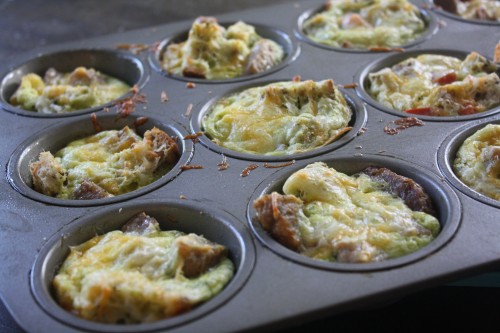 Breakfast Casserole Cups with Sausage and Tomato
Make this recipe up to 24-hours ahead and store in the refrigerator. Freeze leftovers for a quick weekday breakfast.
5 slices whole grain crusty bread, cubed
1 package Applegate Chicken & Maple Sausage Patties, thawed and chopped
6 large eggs
½ cup half & half
¼ cup fresh basil leaves
¾ teaspoon kosher salt
Hot sauce and freshly ground black pepper to taste
1 cup shredded cheddar cheese
1 cup chopped tomato
Nonstick cooking spray
Equipment: 12-cup muffin pan, blender
Preheat oven to 350 degrees F. Spray the muffin pan with nonstick spray. Evenly distribute bread and sausage in each cup; set aside. Combine eggs, half & half, and basil to blender; season with salt, hot sauce and pepper — blend for 30 seconds. Pour egg mixture into muffin pan, filling each cup about two-thirds of the way; sprinkle with cheese and tomato. Bake for 15 minutes or until eggs are set. Remove from the oven and allow to cool for at least 15 minutes before serving.
Makes 12 pieces (nutrition info per piece); Calories: 146; Total Fat: 9 grams; Saturated Fat: 4 grams; Total Carbohydrate: 7 grams; Protein: 10 grams; Sodium: 330 milligrams; Cholesterol: 119 milligrams; Fiber: 2 grams