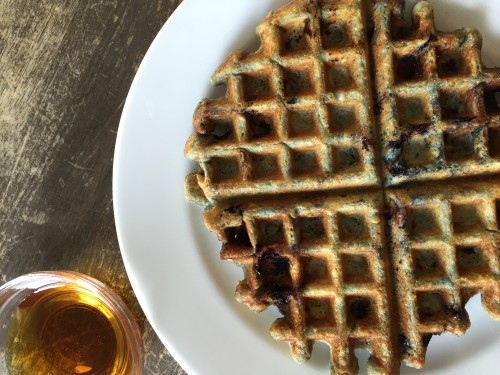 On a recent sponsored trip to Maine, I learned all about the wildly beautiful, wild blueberry. Ever since, I've been experimenting with these antioxidant-filled beauties! My most recent creation was this breakfast delight!
Makes about 8 large waffles
1 cup all purpose flour
2 tablespoons powdered sugar
¼ cup stone ground cornmeal
1 teaspoon baking powder
Pinch baking soda
¼ teaspoon kosher salt
4 tablespoons butter or coconut oil, melted & cooled slightly
1 large egg
¾ cup 1% milk
1 teaspoon vanilla extract
¾ cup frozen wild blueberries
100% pure maple syrup, for serving
Preheat a waffle iron to medium heat (I use a 3 out of 5 on my machine – lower is better to prevent the fruit from burning).
In a medium bowl, mix together flour, sugar, cornmeal, baking powder, baking soda, and salt. In a separate bowl, whisk melted butter, egg, milk, and vanilla. Fold wet ingredients into dry and mix until just combined; mix in blueberries. Spray waffle iron with cooking spray and prepare waffles – keep in a warm oven until ready to serve.
Nutrition Info Per Waffle (does not include syrup)
Calories: 142; Total Fat: 7 grams; Saturated Fat: 4 grams; Total Carbohydrate: 17 grams
Protein: 3 grams; Sodium: 123 milligrams; Cholesterol: 40 milligrams
Fiber: 1 gram