Strawberry Crunch Bark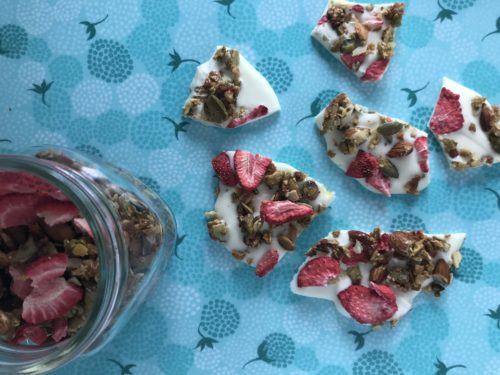 You always have time to throw together a homemade dessert with a few pantry staples.
8 ounces white chocolate, chopped
1/2 cup  Nut + Seed Granola (any granola will work)
1/2 cup freeze dried strawberries
Melt white chocolate in the microwave or over a double boiler. Once melted spread on to a parchment lined baking sheet. Sprinkle with granola and freeze dried strawberries and allow to set until the chocolate is hardened. Pop in the fridge or freezer for faster setting.
Nutrition Info Per Serving; Calories: 193; Total Fat: 13 grams; Saturated Fat: 7 grams; Total Carbohydrate: 19 grams; Sugars: 18 grams; Protein: 2 grams; Sodium: 23 milligrams; Cholesterol: 7 milligrams;  Fiber: 1 gram