Raspberry Nut + Seed Granola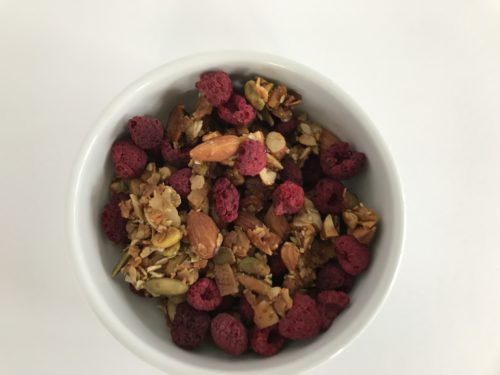 Make this outrageous granola with any kind of freeze dried fruit – Trader Joe's has the best selection.
Makes about 5 cups
2 tablespoons coconut oil, melted
¼ cup honey
½ teaspoon coarse sea salt
½ teaspoon ground cardamom
1 teaspoon vanilla extract
1 cup raw almonds
1 cup raw shelled pistachios
1 cup unsweetened coconut chips
1 cup shelled pumpkin seeds
1 cup freeze dried raspberries
Preheat oven to 300°F. Line a baking sheet with parchment paper and set aside. In a medium sized bowl mix melted coconut oil, honey, salt, cardamom and vanilla and whisk well to combine. In a food processor combine almonds, pistachios, coconut chips and pumpkin seeds; pulse about 10 times to roughly chop. Pour nut mixture into bowl with honey mixture and toss to coat. Transfer granola to prepared baking sheet and spread in an even layer. Bake, stirring occasionally, until golden brown (15 to 20 minutes). Remove from oven. Once completely cool, mix in freeze dried raspberries.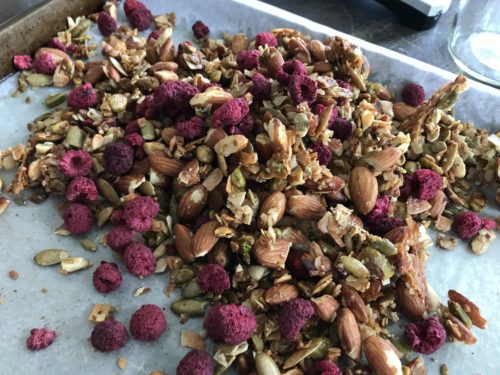 Store in an airtight container for up to 2 weeks.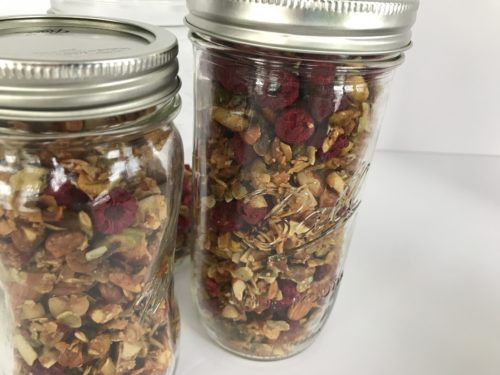 Nutrition Info Per ¼ cup serving; Calories: 157; Total Fat: 13 grams; Saturated Fat: 5 grams; Total Carbohydrate:  9 grams; Sugars: 5 grams; Protein:  5 grams; Sodium:  15 milligrams; Cholesterol:  0 milligrams;  Fiber: 3 grams