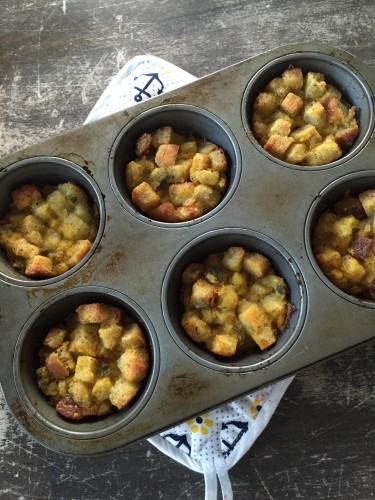 I used to be so intimidated by homemade stuffing but this recipe changed all that. Pumpkin puree helps keep the stuffing moist without all the fat, plus adds a seasonal flavor that can't be beat. Add this fun and easy recipe to your Thanksgiving table – you can use a muffin pan for easy portion control or make a large casserole instead. Best part is – it has less than 130 calories per serving!
Pumpkin-Sage Muffin Cups
Serves 12
4 tablespoons unsalted butter
2 tablespoons olive oil
½ large onion, finely chopped
2 tablespoons chopped fresh sage
2 teaspoons fresh thyme
½ teaspoon kosher salt
¼ teaspoon freshly ground black pepper
½ cup fresh or canned pumpkin puree
4 cups day old bread cubes or packaged stuffing bread cubes
1 ½ cups homemade or low sodium chicken broth
Spray a 12-cup muffin pan with cooking spray and set aside. Preheat oven to 350-degrees F.
Melt olive and butter in a medium skillet. Add onion, sage, and thyme; season with salt and peppers and sauté for 3 to 5 minutes, until fragrant and onions are tender. Set aside to cool slightly.
In a large bowl, gently mix bread and pumpkin. Add onion and sage mixture and stir well. Add chicken broth ½ cup at a time until mixture is moist (you may only need 1 cup).
Transfer stuffing to muffin cups. Cover with foil* and bake for 15 minutes. Remove foil and bake for an additional 15 minutes or until tops are golden brown.
Nutrition Per Serving: Calories: 126; Total Fat: 7 grams; Saturated Fat: 3 grams; Total Carbohydrate: 14 grams
; Sugars: 1 gram; Protein: 3 grams; Sodium: 269 milligrams; Cholesterol: 10 milligrams
; Fiber: 1 gram
*you can make ahead and store covered in the refrigerator for up to 24 hours before baking