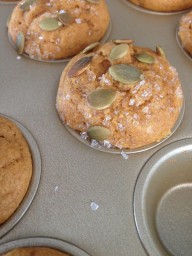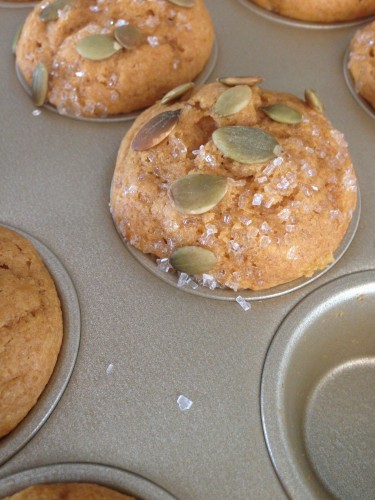 Charlie's Double Pumpkin Muffins
My daughter Charlotte is obsessed with pumpkin muffins and there are no complaints from me. I created this recipe especially with her in mind, and I find myself making and freezing batches of these at least once a month. Pumpkin seeds make for the "double" pumpkin designation, but sometimes we just make them plain. They are also dynamite when you add a couple handfuls of mini chocolate chips to the batter.
1 cup all-purpose flour
1 cup whole wheat pastry flour
1 ½ teaspoons baking powder
½ teaspoon baking soda
½ teaspoon ground cinnamon
1 teaspoon kosher salt
1 cup light brown sugar
1 large egg, beaten
½ cup canola oil
1 (3-ounce) pouch carrot-applesauce (Trader Joe's "Crushers" recommended)
1 cup whole milk
1 teaspoon vanilla extract
1 cup canned pumpkin puree
Pumpkin seeds and sparkling sugar
Preheat oven to 375°F. Spray mini muffin pan with non- stick cooking spray and set aside. In a large bowl, combine flours, baking powder, baking soda, cinnamon, and salt; whisk well to combine. In a separate bowl whisk together brown sugar, egg, canola oil, carrot- applesauce, milk, vanilla, and pumpkin puree. Add pumpkin mixture to dry ingredients and mix until just combined. Fill each muffin cup with 1 tablespoon of batter and sprinkle with pumpkin seeds and sparkling sugar. Bake for 12 to 14 minutes or until a toothpick comes out clean from the center. Allow to cool for at least 20 minutes before serving.
Yield: 36 mini muffins
Nutrition information per Muffin
Calories: 77, Total Fat: 3 grams, Saturated Fat: 0 grams, Carbohydrate: 11 grams, Sugars: 6 grams, Protein: 1 gram, Sodium: 73 milligrams, Cholesterol: 5 milligrams, Fiber: 1 gram, Vitamin D: 1 IU, Calcium: 7 milligrams, Iron: 0.3 milligrams
Excerpted from First Bites: Superfoods for Babies and Toddlers by Dana Angelo White. © 2015 by Dana Angelo White. A Perigee Book, Penguin Group USA, A Penguin Random House Company.