Healthy Snack: Mango Fruit Leather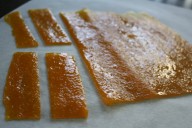 An amazing snack for any seasonal fruit! Fruit Leather – kids and adults LOVE, LOVE, LOVE this recipe.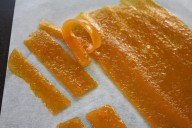 Mango Fruit Leather
2 cups chopped fresh mango  
Juice of 1/2 a lime
2 tablespoons sugar
2 tablespoons agave nectar
Preheat oven to 170°F. Line a baking sheet with parchment paper or a Silpat mat and set aside. Place mango, lime, sugar, and agave in a medium saucepan. Bring to a boil and cook for about 7 to 8 minutes, then puree using an immersion blender.* Continue to cook over medium-high heat for an additional 5 to 10 minutes or until thick and syrupy; the mixture should be thick enough to coat the back of a spoon. Pour the hot fruit mixture onto prepared baking sheet and spread evenly into approximately an 8 × 12 inch rectangle. Place in the oven and bake for 3 1/2 hours. Turn off the oven and allow to sit overnight. Cut into strips with a pizza cutter; roll up in a clean piece of parchment paper. Store in an airtight container for up to 3 weeks.
*If you do not have an immersion blender, puree in a food processor and then return mixture to saucepan.
Yield: 12 strips
Nutrition information per 1 strip
Calories: 36, Total Fat: 0 grams, Saturated Fat: 0 grams, Carbohydrate: 10 grams, Sugars: 6 grams, Protein: 0 grams, Sodium: 1 milligram, Fiber: 1 gram