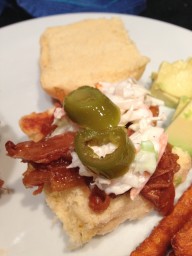 Slow Cooker Pulled Pork
Serves: 8
1 bulb fennel, thinly sliced
1/2 white onion, thinly sliced
2 tablespoons canola oil, divided
3 medium sized pork tenderloins (about 3 pounds), cut in half
1/2 cup apple cider or apple juice
1/2 cup BBQ sauce
Kosher salt and pepper
Place fennel and onion in the bottom of a 5 to 6 quart slow cooker, season with salt and pepper.
Season pork with salt and pepper. Heat 1 tablespoon of oil in a large skillet over medium-high heat. Sear 3 pieces of the pork, cooking for about 2 minutes per side. Transfer to slow cooker on top of fennel and onion; repeat with remaining oil and pieces of pork. After removing pork, pour apple cider into hot skillet and cook for 2 minutes, using a wooden spoon to scrape any brown bits from the bottom of the pan. Pour apple cider mixture into slow cooker, followed by BBQ sauce. Cover and cook on low for 7 hours.
After 7 hours remove lid and shred pork using 2 forks. Add more BBQ sauce if desired. Cover and cook for one hour more (*see tip).
Serve with rice, on nachos, on small rolls with coleslaw, or with a side of mac and cheese.
TIP *If the mixture is too watery, drain some of the juices and transfer to a small saucepan; boil until it is reduced as desired and add back to slow cooker.
Nutrition Per Serving: Calories: 260; Total Fat: 7 grams; Saturated Fat: 1 gram; Total Carbohydrate: 10 grams; Sugars: 6 grams; Protein: 36 grams; Sodium: 378 milligrams; Cholesterol: 111 milligrams; Fiber: 1 gram