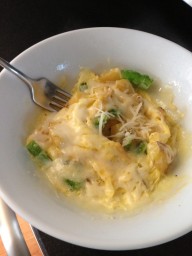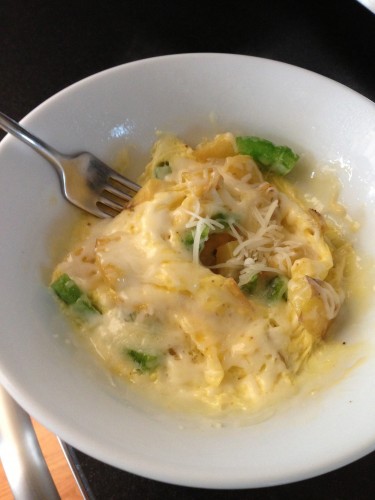 My house is under (major) construction and every day something different is being turned off. Last night it was the gas – and just like that I am stove-less.
I managed dinner – homemade baked fish sticks and roasted potatoes and cauliflower. Oatmeal in the microwave was simple enough for the kids this morning but I was really in the mood for eggs……
Place leftover roasted potatoes in a microwave safe bowl. Added 2 lightly beaten eggs that have been seasoned with salt and freshly ground black pepper. Microwave for 1 minute. Gently scramble the egg mixture with a fork and add green peppers. Back in the microwave for another minute. Give one last gentle stir and top with shredded cheese. Return to the micro and zap for 30 seconds or until cheese is melted. Voila! A healthy breakfast in minutes – high in protein and less than 400 calories.