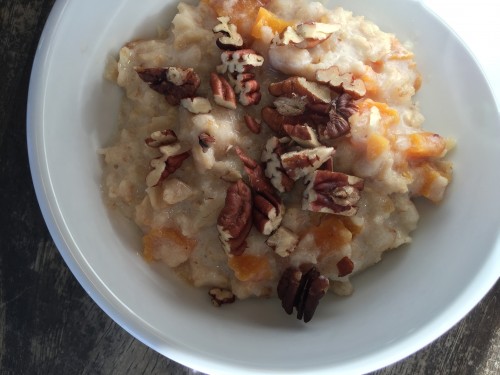 A healthy, easy and delicious way to kick off your day!
Serves: 2
1 3/4 cups lowfat milk
Pinch kosher salt
1 cinnamon stick (optional)
1 cup rolled oats
1/2 cup diced peaches (fresh, canned or dried)
1 tablespoon cinnamon sugar
1/4 cup chopped pecans
Place milk, salt, and cinnamon stick in a saucepan and bring to a simmer over medium high heat. Stir in oats, peaches, and cinnamon sugar. Reduce heat to medium low and cook for 5 to 7 minutes. Serve topped with chopped pecans.
Nutrition Info Per Serving
Calories 342; Total Fat 10g; Carbohydrates 52g; Protein 13g ; Fiber 6g