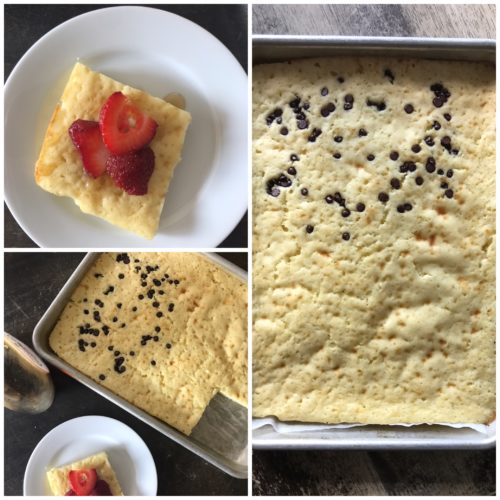 Make breakfast for a crowd with sheet pan pancakes.
I'm always scurrying to flip pancakes as fast as my kids can eat them. I use my sheet pans for just about everything else, why not this popular breakfast?! Use your favorite pancake batter recipe or mix. I have a no-fail recipe for whole wheat pancakes and this recipe from Martha Stewart also comes out perfectly.
Use a half sheet pan with 2 cups of batter in a shallow 9×13 baking dish or quarter sheet pan – this is plenty for 4 people. For a larger crowd use 4 cups of batter on a larger standard half sheet pan. I like to sprinkle mini chocolate chips or blueberries over half of the pan so everyone can have some of their favorite kind. Leftovers freeze beautifully.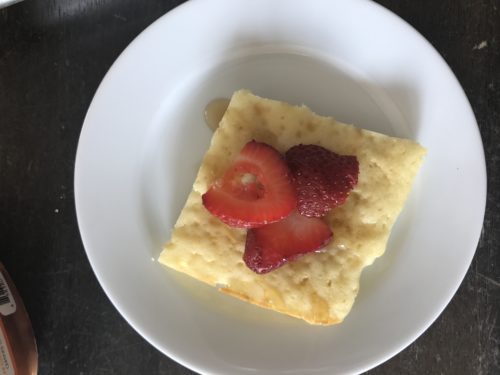 Sheet Pan Pancakes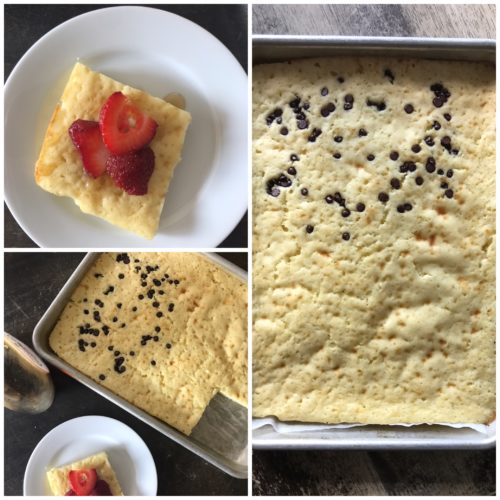 Make breakfast for a crowd with these sheet pan pancakes. Leftovers freeze beautifully.
Ingredients
4

cups

prepared pancake batter

1/2

cup

mini chocolate chips

optional

Seasonal fruit and 100% maple syrup for topping
Instructions
Preheat oven to 350 degrees F.

Line sheet pan with parchment paper and spray with nonstick cooking spray.

Pour batter into pan and spread evenly in the pan.

Bake for 20-25 minutes, or until puffed and set – you can check with a toothpick to make sure it is completely cooked.

To help the top turn slightly golden, turn on the broiler for a minute or two to carefully toast.

Serve with maple syrup and seasonal fruit.

Allow to cool for 5 minutes, slice and serve.