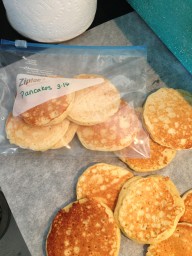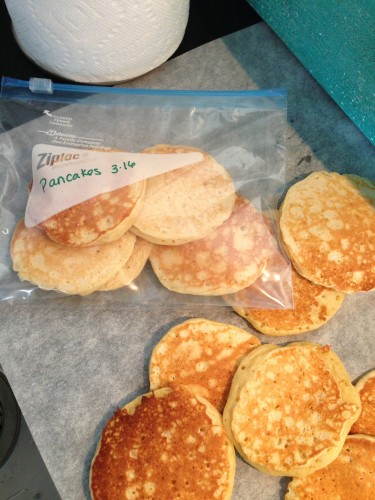 Whole Wheat Pancakes
I love making pancakes for my girls on the weekends. Making a HUGE batch only takes a little more time – I pop the extras in the freezer and have pancakes for busy weekday mornings.
3/4 cup whole wheat pastry flour
3/4 cups all-purpose flour
1/2 teaspoon baking powder
1/4 teaspoon baking soda
3/4 teaspoon kosher salt
2 teaspoons sugar
2 cups low fat buttermilk
2 large eggs, lightly beaten
2 teaspoons vanilla extract
4 tablespoons unsalted butter, melted and cooled slightly
Additional butter for greasing pan or griddle
Toppings: butter, fresh fruit, jam, maple syrup
In a large bowl combine flours, baking powder, baking soda, salt and sugar. Whisk well. In a large measuring cup or medium bowl whisk together buttermilk, eggs, vanilla and melted butter. Add the buttermilk mixture to the flour mixture and stir to combine.
Heat and grease a pan or griddle over medium heat. Pour about 3 tablespoons of batter and cook 2 to 3 minutes per side, until golden brown. Serve with desired toppings.
Yield: makes about 24 pancakes
Nutrition Information Per Pancake
Calories: 70
Total Fat: 3 grams
Saturated Fat: 2 grams
Carbohydrate: 9 grams
Sugars: 2 grams
Protein: 2 grams
Sodium: 130 milligrams
Cholesterol: 7 milligrams
Fiber: 1 gram