Pizza Dough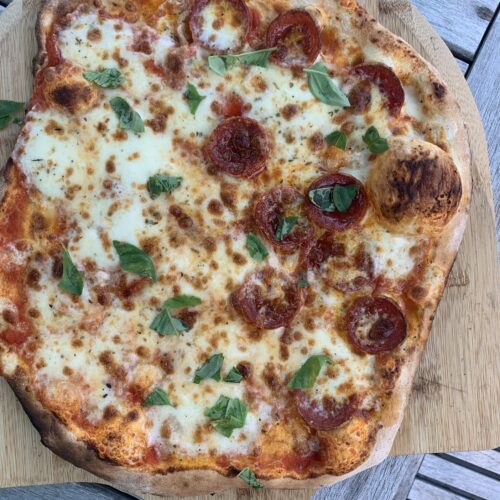 I have worked for years to perfect this dough recipe. There are many ways you can use it depending on how you plan to cook it.
Ingredients
1

tsp

dry active yeast

1

tsp

honey or granulated sugar

3

cups

all-purpose flour

3

cups

"00" flour

or 3 cups more AP flour if you don't have "00"

1

tbsp

kosher salt

1

tbsp

olive oil
Instructions
Combine 2 cups of warm water with yeast and honey (or sugar), whisk gently and set aside for 15 minutes for the yeast to activate.

Place flour and salt in the bowl of a stand mixer fitted with a dough hook attachment, turn on and mix the flour and salt.

With the machine running on low add yeast mixture and olive oil. Turn speed to medium and continue to mixture until dough comes together in a ball, about 3 minutes.

Turn off machine and place dough in an oiled bowl, cover with a clean kitchen towel and let rise for at least one hour. Once the dough has risen, turn out onto a lightly floured surface. If using right away, divide into 3 to 10 evenly sized dough balls* (see note below on sizing and storage).

To prepare your pizza, preheat oven to 450 degrees F. Using a paper towel rub a few tsp of olive oil and lightly grease your pizza pan. Use a round pizza pan for small, thinner pizzas or a 11×18-inch sheet pan for a larger pie with a slightly thicker crust.

On a lightly floured surface, stretch out the dough to desired size and thickness and transfer to the prepared pan. Gently press the dough to the edges of the pan until it stretches across the entire pan.

Top dough with sauce, followed by cheese and desired toppings.

Bake for 15 to 17 minutes, stopping half way through to turn the pan.

Remove from oven and allow to cool for 5 minutes before cutting.
Notes
I highly recommend making the dough a day a head. Allowing it to chill and rise a second time makes for a crust that is crispy on the outside, with just the right amount of chew.
Store dough in the refrigerator wrapped in parchment paper and a placed in a large plastic bag (gallon size works perfectly). 
You can also freeze it this way – it will keep in the freezer for up to 3 months. 
When ready to use, take out of the refrigerator, open the bag and allow to sit at room temperature for 2 to 3 hours before dividing and stretching. If frozen, allow to defrost overnight in the refrigerator first.