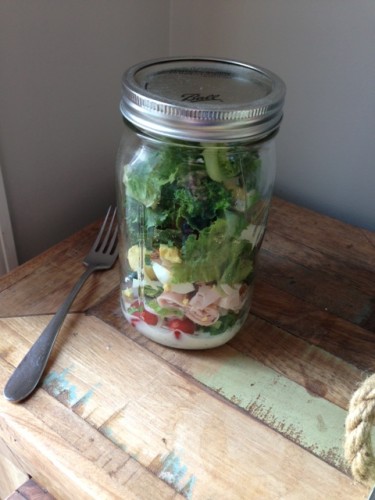 Enjoy a fresh salad on the go. No soggy lettuce here!
Chef Salad Jar
Serves: 1
2 tablespoons favorite salad dressing (try this Honey Mustard)
3 cups mixed greens
2 oz grilled chicken or turkey breast, diced
1 oz Swiss cheese, diced
1 hard boiled egg, chopped
1 cup mixed vegetables (such as carrots, cucumber, olives, broccoli)
Pour dressing in the bottom of the jar. Layer additional ingredients on top of dressing. Shake before serving to dress the salad.
Nutrition Information Per Serving
Calories: 490; Total Fat: 18 grams; Saturated Fat: 7 grams; Carbohydrate: 28 grams Fiber: 14 grams; Protein: 45 grams; Sodium: 500 milligrams; Cholesterol: 260 milligrams