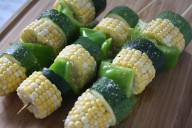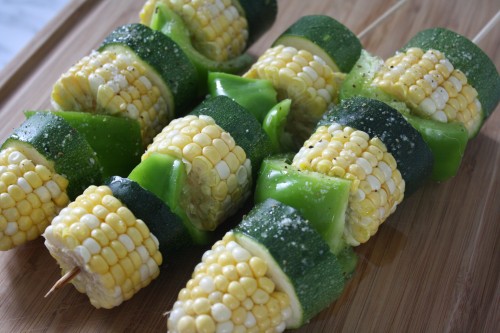 Make these fun and fresh veggies for your next outdoor grillfest.
1 small green bell pepper, seeded, cored, cut into chunks
1 small zucchini, sliced into 1/4-inch rounds
1 large corn on the cob (about 8 inches), sliced into 8 pieces
1 tablespoon olive oil
Juice of 1 lemon
½ teaspoon kosher salt
Black pepper
4 large skewers
Carefully slide vegetables onto skewers, alternating the pepper, zucchini, and corn. In a small bowl, whisk together the olive oil, lemon juice, salt, and pepper. Brush onto skewers. Grill for 8 to 10 minutes or until vegetables are warm and just tender.
Yield: 4 skewers / nutrition information per 1 skewer
Calories: 85, Total Fat: 3 grams, Saturated Fat: 0 grams, Carbohydrate: 12 grams, Sugars: 4 grams, Protein: 2 grams, Sodium: 300 milligrams, Cholesterol: 0 milligrams, Fiber: 2 grams