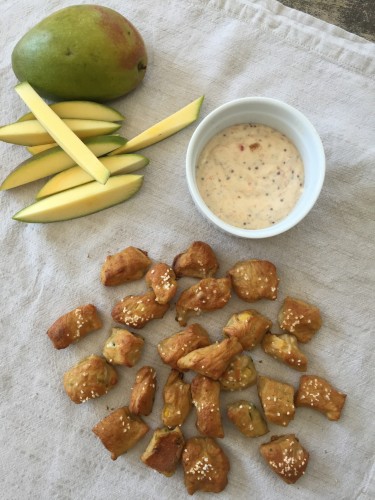 It is prime season for juicy mangos and fresh perennial herbs are just beginning pop up in my garden beds. Springtime was the inspiration for these pretzel bites – make a batch for a holiday brunch or family movie night. This recipe makes plenty– you can't eat just one.
The entire recipe comes together in about 2 hours, which includes an hour for the dough to rise. The dough also freezes beautifully if you want to make ahead. If you love to dip, Dijon mustard is simply delicious. For even more mango flavor mix mango chutney with some mayo, Greek yogurt and whole grain mustard.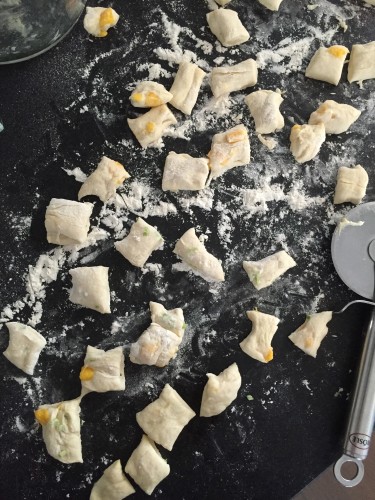 Mango-Chive Pretzel Bites
Cooking with mangos adds fiber, plus vitamins A and C. The sweet and tangy flavor compliments both sweet and savory dishes. For these pretzels, finely chop the mango so there's a small piece in each bite – this recipe makes enough dough for approximately 10 dozen bite-sized pieces.
1 cup warm water
1 packet active dry yeast
1 teaspoon honey
2 ½ cup all-purpose flour
1 teaspoon kosher salt
1 tablespoon butter, melted
1 cup finely chopped mango
2 tablespoons chopped chives
2 tablespoons baking soda
Pretzel salt or course sea salt
In a small bowl or measuring cup, combine water, yeast and honey. Whisk well and allow to sit for 15 minutes until foamy.
In a bowl of an electric mixer fitted with a dough hook, combine flour and salt. Add yeast mixture and mix on low speed until combined. Add butter and continue to mix on medium. If mixture appears to wet, add additional tablespoons of flour one at a time until dough comes together in a ball (dough will be soft and slightly sticky). Add mango and chives and mix until just combined.
Transfer dough to an oiled bowl and cover with a towel to rise for 1 hour. Preheat oven to 450 degrees F and line a baking sheet with Silpat or other baking mat. Bring a large pot of water to a boil, then add baking soda.
Turn out dough on a lightly floured surface; divide into approximately 10 equal sized pieces. Roll out each piece, stretching gently to form a long, skinny roll. Using a paring knife or pizza cutter, cut each piece of dough into 12 pieces. Working in batches transfer pieces to boiling water and cook for 1 minute, until slightly puffed. Remove from water with a slotted spoon, drain excess water and transfer to baking sheet. Sprinkle each piece with salt. Bake for 10 minutes or until golden brown. Repeat steps with remaining dough.
Nutrition Info Per Serving (12 pieces)
Calories: 137
; Total Fat: 2 grams
; Saturated Fat: 1 grams; 
Total Carbohydrate: 27 grams
; Sugars: 3 grams; Protein: 4 grams
; Sodium: 225 milligrams
; Cholesterol: 3 milligrams
; Fiber: 1 gram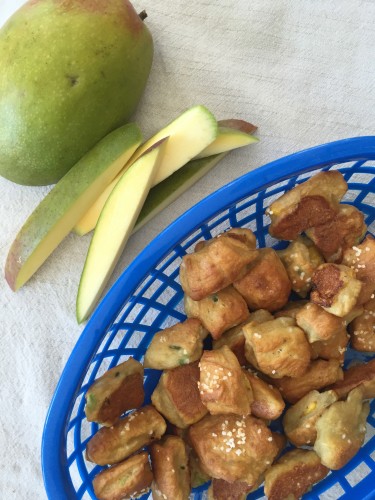 Visit the National Mango Board Website for more recipes and tips.
This a sponsored post. All recipes, photos and opinions are my own.