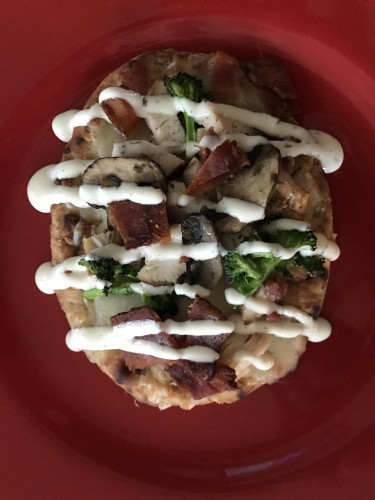 I always hear the college students I teach talking about how much they love "chicken bacon ranch" pizza so I needed to try this flavor combo for myself.
Serves: 1
1 whole grain naan bread
1 tablespoon ranch dressing, plus more for topping
3 tablespoons shredded part-skim mozzarella
3 ounces grilled chicken breast, diced or shredded
1 slice cooked bacon, crumbled
1/4 cup chopped vegetables (such as sliced mushrooms and broccoli)
Preheat oven to 400F. Place naan bread on a baking sheet lined with parchment paper. Spread ranch dressing on top and then sprinkle with cheese. Layer remaining toppings and bake for 5 to 10 minutes or until cheese is melted. Top with additional ranch dressing before serving.
Calories: 399; Total Fat: 18 grams; Saturated Fat: 5 grams; Total Carbohydrate: 19 grams
; Sugars: 3 grams; Protein: 39 grams; Sodium: 785 milligrams; Cholesterol: 105 milligrams; 
Fiber: 4 grams
Save