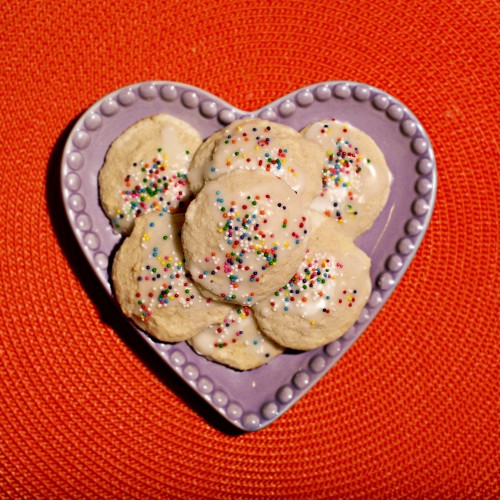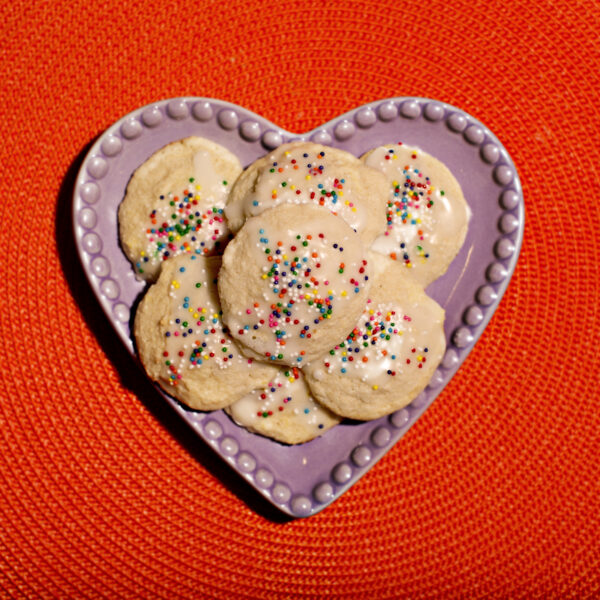 These cookies are a twist on a traditional Italian cookie. These lemony delights are light as air but super flavorful and not overpowering in any way. You can also make the dough ahead and freeze. When ready to bake, place directly in a preheated oven
and increase the cooking time by about 1 to 2 minutes.
½ cup all-purpose flour
½ cup whole wheat pastry flour
½ teaspoon baking powder
¾ teaspoon kosher salt
½ cup unsalted butter
1 cup granulated sugar
1 large egg
1 teaspoon vanilla extract
1 cup whole milk ricotta cheese
2 teaspoons grated lemon zest
For the glaze
1 cup confectioners' sugar
2 teaspoons freshly squeezed lemon juice
1 tablespoon whole milk
Line a baking sheet with parchment paper or Silpat and set aside. Preheat oven to 350F. In a large bowl, sift together flours, baking powder, and salt; set aside. In a stand mixer fitted with a paddle attachment cream together the butter and sugar. With the mixer on low, add the egg, followed by vanilla extract, ricotta, and lemon zest. Slowly add the flour mixture
to the mixer and mix on low until all the flour is incorporated. Spoon tablespoons of dough onto prepared baking sheet (leave at least 2 inches between cookies, they spread a lot!). Bake 1 dozen cookies at a time for 10 to 12 minutes, until the bottoms are golden
brown (the tops will remain pale yellow). Cool for 10 minutes, then transfer to a wire rack to cool completely. While remaining batches are baking and cooling, prepare
the glaze. In a small bowl, whisk together confectioners' sugar, lemon juice, and milk. Glaze should have a loose consistency but should still coat the back of a spoon. Spoon about . teaspoon of glaze onto each cookie and allow to drip off the sides. Sprinkle with desired decorations and allow to set for at least 20 minutes (you can speed this up by placing in the refrigerator).
Yield: 36 cookies
Nutrition Information per Cookie
Calories: 80, Total Fat: 3 grams, Saturated Fat: 1 gram, Carbohydrate:
12 grams, Sugars: 9 grams, Protein: 1 gram, Sodium: 38 milligrams,
Cholesterol: 15 milligrams, Fiber: 0 grams, Vitamin D: 4 IU,
Calcium: 18 milligrams, Iron: 0.2 milligrams
Recipe adapted from First Bites: Superfoods for Babies and Toddlers by Dana Angelo White