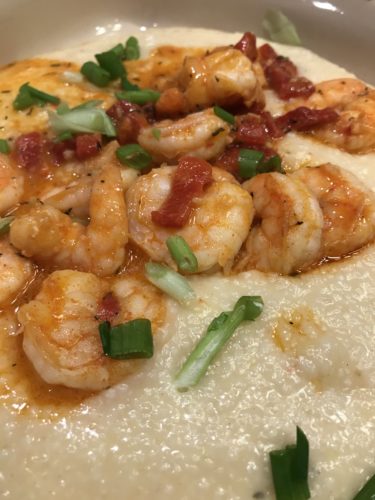 Tender shrimp in a tangy sauce poured over a creamy and cheesy pile of grits. This recipe is usually drenched in butter, cream and tons of cheese. It can be made for a fraction of the calories with a few adjustments. A small amount of full flavored cheese goes a long way.
Serves 4
2 tbsp unsalted butter
1 tbsp olive oil
1 clove garlic, minced
12 oz raw shrimp, peeled and deveined
½ cup chopped roasted red pepper
½ tsp smoked paprika
½ tsp kosher salt
2 tsp fresh thyme
½ tsp red pepper flakes
Juice ½ lemon
½ cup grits
½ cup grated sharp cheddar cheese
2 tbsp chopped scallions
1. Set pot to sauté function and add 1 tbsp of butter and olive oil.
2. Add shrimp and garlic and sauté for 2 minutes.
3. Add roasted red pepper and season with smoked paprika, salt, thyme, red pepper flakes and lemon juice. Continue to sauté for 3 to 5 minutes until shrimp is opaque.
4. Turn off heat. Pour shrimp and sauce out into a bowl, cover with aluminum foil and set aside.
5. Without cleaning out the inner pot, add remaining butter, grits and stir in 2 cups of water. Cover and lock the lid in place. Set to pressure cook (high) for 10 minutes. Allow for 10 minutes of natural release then vent remaining pressure.
6. Remove lid and stir in cheese until melted and grits are creamy.
7. Pour grits onto a platter and top with shrimp. Serve immediately.
Calories 275; Total fat 13; Saturated fat 6g; Cholesterol 161mg; Sodium 311mg; Carbohydrates 19g; Dietary fiber 2g; Protein 21g