A big bunch of fresh mint from my garden means it's time to whip up a batch of tzatziki.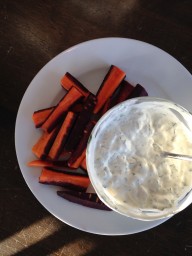 Tzatziki Sauce
Serve this Greek yogurt sauce with lamb chops, seafood, poultry, or as a dip for fresh veggies. It tastes good on just about anything!
Makes about 2 1/4 cups
2 cups nonfat Greek yogurt
1/2 large English cucumber, finely chopped
1 clove garlic, finely chopped
1 1/2 tablespoon white vinegar or lemon juice
2 tablespoon fresh chopped mint
3/4 teaspoon kosher salt
1/4 teaspoon freshly ground black pepper
Combine ingredients in a bowl and mix well. Serve immediately or chill in the refrigerator for 20 minutes before serving. Store leftovers in the fridge for up to 4 days.
Nutrition Info (per 2 tablespoons):
Calories: 29; Total Fat: 0 grams, Saturated Fat: 0 gram, Total Carbohydrate: 2 grams, Protein: 3 grams, Sodium: 46 milligrams, Cholesterol: 0 milligrams, Fiber: 0 grams