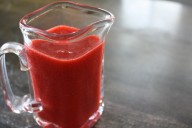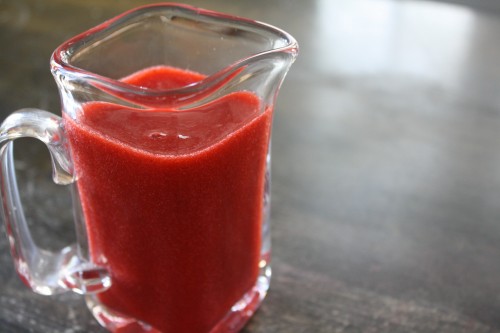 For this week's ice cream treat –silky strawberry sauce poured over vanilla ice cream. A sprinkle of chocolate chips or some crumbled graham crackers adds a bit of crunch.
This recipe actually began 3 weeks ago when we hit up the local strawberry patch. Our harvest was cleaned, dried, hulled, and frozen just for a recipe like this. My little gals helped in every step of the process, but I'm pretty sure they enjoyed digging into these ice cream treats the best!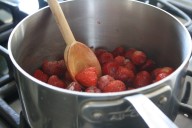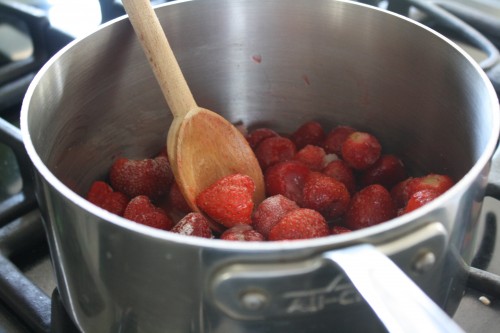 Fresh Strawberry Sauce
Makes 1 ¾ cups
3 cups fresh or frozen strawberries.
¼ cup vanilla sugar*
½ cup water
Juice of ½ a lemon
Place ingredients in a medium saucepan and stir; bring to a boil. Reduced heat to a simmer and cook for 4 to 6 minutes, until berries are soft. Remove from heat and cool slightly. Carefully transfer to a blender and blend until smooth. Pour blended mixture through a fine mesh strainer to remove seeds. Chill before serving.
Nutrition Info Per 2 Tablespoons: Calories: 24; Total Fat: 0 gram; Total Carbohydrate: 7 grams; Protein: 0 grams; Sodium: 0 milligrams; Cholesterol: 0 milligrams; Fiber: 1 gram
*To make vanilla sugar, place split vanilla beans in a large container of granulated sugar.
Regular granulated sugar can be used in its place for this recipe.