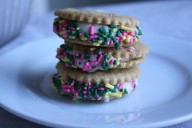 Unbelievably yummy and super cute – these ice cream treats might just be the family favorite of the summer.
Use any combination of small cookies and ice cream for this easy recipe. Trader Joe's Cookie Thins are the perfect size and texture. Roll in sprinkles, mini chocolate chips, or chopped nuts for some added crunch.
Some fun flavor combos
ginger cookies + strawberry ice cream
almond cookies + chocolate chip ice cream
vanilla cookies + black raspberry ice cream
lemon cookies + peach frozen yogurt
chocolate cookies + salted caramel gelato
Mini Ice Cream Sandwiches
Makes 12
24 Trader Joe's Toasted Coconut Cookie Thins
3/4 cup Ben & Jerry's Cherry Garcia ice cream, softened
Colored sprinkles
Place 12 cookies (flat side up) on a flat surface. Top each cookie with 1 tablespoon of ice cream, top with another cookie and press gently until ice cream reaches edges of the sandwich. Roll in sprinkles and place in a freezer safe container for at least 1 hour to harden.
Nutrition Info Per Piece: Calories: 65; Total Fat: 3 grams; Saturated Fat: 2 grams; Carbohydrate: 9 grams; Protein: 1 gram