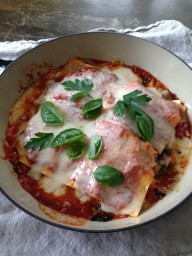 I've always wanted to try this and was shocked how easy and delicious it came out. This is a veggie version but you can add any of your favorite meat fillings to the mix.
Summer Skillet Lasagna
Serves: 6
2 cups shredded mozzarella cheese
3 tablespoons grated Parmesan cheese
1 cup ricotta cheese
1 large egg
Kosher salt and freshly ground black pepper
1 1/4 cups prepared marinara sauce, divided
6 no-boil lasagna noodles
3 cups sauteed vegetables (such as zucchini, kale, spinach & onion)
Fresh basil
Combine mozzarella and Parmesan in a small bowl, toss and set aside. In a separate bowl, gently mix ricotta and egg; season with salt and pepper and set aside. Heat 1/2 cup of marinara sauce in the bottom of a skillet over medium-low heat. Add 2 lasagna noodles, then top with half of the vegetables, a few spoonfuls of sauce, followed by half of the ricotta mixture, then one-third of the mozzarella mixture.
Make the next layer with 2 more noodles, remaining vegetables, a few more spoonfuls of sauce, the remaining ricotta, and an additional one-third of the shredded cheese.
For the final layer use the two remaining noodles, followed by remaining sauce and shredded cheese. Cover and cook for approximately 20 minutes, or until cheese is melted and noodles are tender. Allow to cool slightly and garnish with fresh basil before serving.
Nutrition Info Per Serving
Serves: 6: Calories: 309; Total Fat: 17 grams; Saturated Fat: 9 grams; Total Carbohydrate: 21 grams; Protein: 20 grams; Sodium: 718 milligrams; Cholesterol: 76 milligrams
Fiber: 2 grams