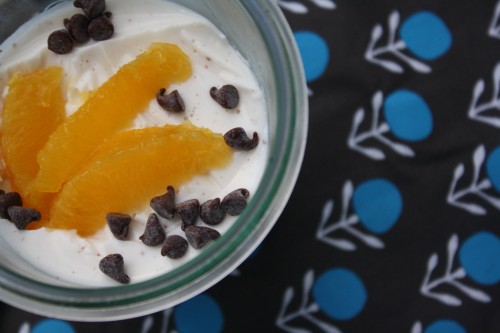 Make a healthy treat that tastes like a decadent dessert. In this sponsored post, I got the kids in the kitchen to play with some of the new Chobani Kids and Chobani Tots yogurts.
Yay for Yogurt
Not only is yogurt a kid favorite, it's filled with nutrients that growing bodies need like protein, calcium, and tummy-pleasing probiotics. As a parent, I also appreciate that these Chobani Kids pouches have 25% less sugar than the leading kids' yogurt and the Tots Pouches are fortified with DHA omega-3 fats.
My kids and I had a ball in the kitchen making and tasting these panna cotta recipes experimenting with flavors like Vanilla Chocolate Dust and Mango + Spinach. We also tried the same recipe using Chobani Pumpkin Spice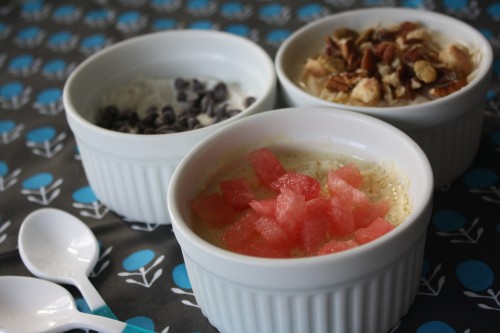 Vanilla-Chocolate-Orange Greek Yogurt Panna Cotta (pictured above)

This recipe can easily be doubled for a crowd. Experiment with other flavors of yogurt as well!
Makes 4 servings
3/4 cup whole milk
1/2 packet powdered unflavored gelatin (1 teaspoon)
1 teaspoon granulated sugar (vanilla sugar if you have it)
3 large strips orange peel
1 cup (about 3 pouches) Chobani Kids Vanilla Chocolate Dust
Mini chocolate chips and orange segments for garnish
Place 1/4 cup milk in a small bowl and sprinkle with gelatin; set aside for 10 minutes. Heat remaining milk, sugar and orange peel in a small saucepan and bring to a simmer. Once simmering and sugar is dissolved remove from heat and take out orange peel. Stir in gelatin mixture; whisk well for 1 minute. Allow to cool slightly then whisk in yogurt until well combined. Evenly divide yogurt mixture between 4 small bowls or ramekins; cover with plastic wrap and place in the refrigerator to chill overnight. Serve topped with mini chips and orange segments.
Nutrition Per Serving:
Calories: 139; Total fat: 5 grams; Total carbohydrates; 15 grams; Protein: 9 grams