Healthy Air Fryer Cookbook: Cauliflower and Cheddar Potato Skins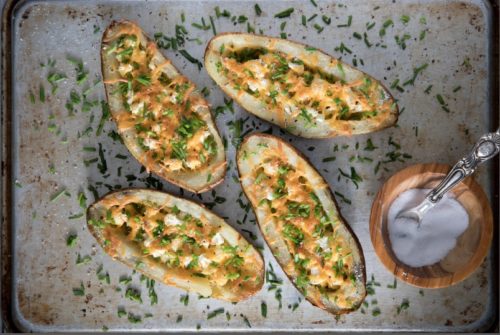 This popular pub food can be made in a healthier fashion. Pile on the cauliflower, sprinkle with a sensible amount of flavorful cheese and get the skin nice and crispy skin in the air fryer. New to air frying? Check out my exclusive list of Air Frying Essentials featured on Healthline.
Makes 8 pieces
4 medium russet potatoes, scrubbed
2 tbsp olive oil
½ tsp kosher salt
½ tsp black pepper
½ cup shredded sharp cheddar cheese
1 cup chopped cauliflower florets
2 tbsp. chopped chives for serving
1.    Preheat the air fryer to 360°F
2.    Spray the fryer basket with nonstick cooking spray and place 2 whole potatoes in the air fryer basket and cook until tender, about 20 minutes; repeat with remaining potatoes.
3.    Once potatoes are cool enough to handle, cut in half lengthwise and scoop out some of the flesh.
4.    Brush the insides of the potato skins with olive oil and season with salt and pepper.
5.    Top each potato skin with 2 tbsp of cauliflower and 1 tbsp of shredded cheese.
6. Place four pieces in the fryer basket and cook for 12 minutes. Repeat with remaining 4 pieces.
7. Sprinkle with chives before serving.
Calories    103
Total fat    5g
Saturated fat 2g
Cholesterol    5mg
Sodium 111mg
Carbohydrates 12g
Dietary fibers 3g
Sugars 1g
Protein 3g
Excerpted from Healthy Air Fryer Cookbook reprinted by permission of Alpha, a division of Penguin Random House LLC. Copyright © 2017 by Dana Angelo White