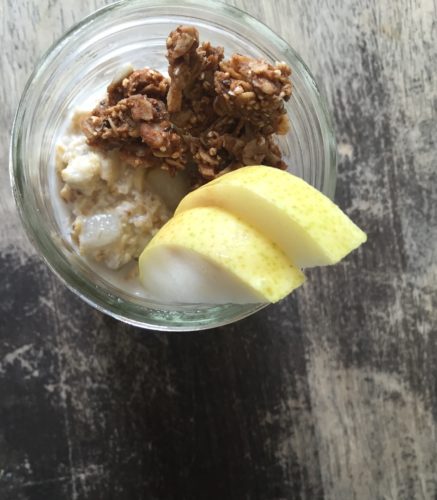 This mixture of oats, pears, cinnamon and coconut is overflowing with hunger-fighting fiber and will keep you going strong all morning. No more excuses about not having time to eat – make multiple servings of this recipe and everyone can take their breakfast to go.
Serves: 1
½ cup rolled oats
½ cup boxed coconut milk
¼ teaspoon cinnamon
Pinch kosher salt
½ cup chopped pear
2 tablespoons granola
In a small jar combine oats, coconut milk, cinnamon, salt and pears; stir to combine. Cover and place in the refrigerator overnight. Top with granola before serving.
Nutrition Info Per Serving:
Calories: 315; Total Fat: 9 grams; Saturated Fat: 3 grams; Total Carbohydrate: 52 grams
Sugars: 15 grams; Protein: 8 grams; Fiber: 8 grams