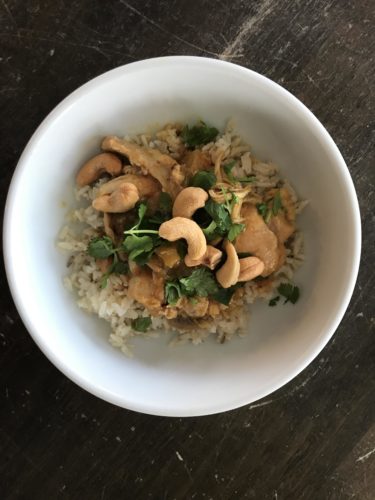 Another slow cooker favorite for a simple and healthy weeknight dinner. Serve with brown rice or naan bread.

Serves: 8
1.5 pounds boneless, skinless chicken thighs
1 cup all-purpose flour
1/2 teaspoon kosher salt
1 tablespoon coconut oil
1 (15-ounce) can coconut milk
1/2 cup marinara or canned tomato sauce
1 red onion, sliced
2 cloves garlic, sliced
1/2 cup chopped pineapple (fresh or canned)
Juice of one lime
1 tablespoon grated fresh ginger
2 teaspoons turmeric
1 teaspoon celery salt
1 teaspoon ground cumin
Cashews, cilantro & lime wedges for serving
Place flour and salt in a large resealable bag. Add chicken and toss to coat. Heat oil in a skillet or slow cooker with a browning function. Shake excess flour from chicken and brown on both sides (it takes about 2 to 3 minutes per side). Add coconut milk, marinara, onion, garlic, pineapple, lime, ginger, turmeric, celery salt and cumin; stir to combine. Cover and cook on LOW for 8 hours or HIGH for 4 hours. Allow to cool for 10 minutes and taste for seasoning; serve topped with cashews, cilantro and a squeeze of fresh lime juice.
Nutrition Per Serving: Calories: 306; Total Fat: 24g: Saturated Fat: 12g; Sodium: 243mg; Carbohydrate: 9g; Protein: 16g: Fiber: 1g