Air Fryer Recipe: BBQ Wontons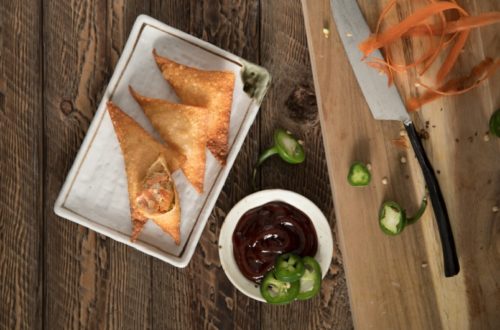 An order of fried wontons from a local Chinese joint can easily top 500 calories and it's supposed to be an appetizer! Here's a fabulous way to repurpose leftover chicken and veggies; a few unexpected ingredients make these bite-sized snacks extra special.
BBQ Wontons
(Makes: 20 pieces)
2 tbsp. grated carrots
2 tbsp. grated zucchini
¼ cup diced cooked chicken
1 tbsp pickled jalapenos, finely chopped
3 tbsp. cream cheese, softened
2 tsp. barbecue sauce
20 wonton wrappers
1 tbsp canola oil
Preheat the air fryer to 390°F.
Wrap the grated carrots and zucchini in a paper towel and squeeze out excess liquid.
In a large bowl, combine the carrots, zucchini, chicken, jalapenos, cream cheese and barbecue sauce.
Place a tablespoon of the filling in the center of the wonton wrapper. Apply a small amount of water along the edges of the wrapper to help seal it, then fold in a triangle. If the wrappers are coated with flour, place the filling on the floured side)
Repeat the process with the remaining wontons and place on a plate, covering with a damp paper towel. Before cooking brush each with canola oil.
Spray the air fryer baking pan with nonstick cooking spray, then place 5 wontons in the pan and cook for 4 minutes, or until golden brown. Reapeat this process with the remaining wontons.
Remove the wontons from the fryer and allow to cool on a wire rack for 5 minutes before serving.
Calories    162
Total fat    6g
Saturated fat 2g
Cholesterol    19mg
Sodium    288mg
Carbohydrates 21g
Dietary fibers 1g
Sugars    1g
Protein    6g
Recipe images and text from Healthy Air Fryer Cookbook reprinted by permission of Alpha Books, a division of Penguin Random House LLC. Copyright © 2017 by Dana Angelo White MS RD ATC