Healthy Air Fryer Cookbook: Zeppole with Cannoli Dip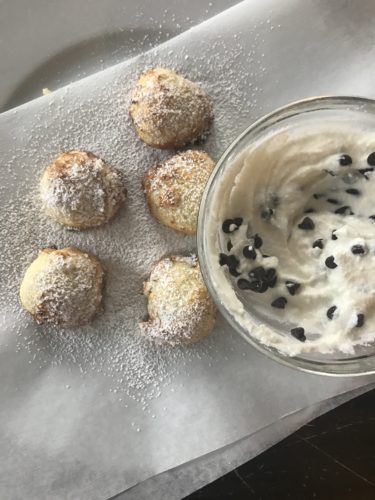 One of my absolute favorite recipes from my new cookbook. Make the batter and dip ahead of time and store in the refrigerator. Cook the zeppole just before dessert. Serve with espresso and fresh fruit.
Serves 8
½ cup all-purpose flour
1 ¼ tsp. baking powder
2 tbsp. granulated sugar
Pinch kosher salt
¾ cup whole milk ricotta cheese
1 egg, beaten
Vanilla extract
2 tbsp. Greek vanilla yogurt
1 tbsp. mini chocolate chips
1 tsp. confectioners' sugar
1. Preheat air fryer to 390°F.
2. In a medium bowl, whisk flour, baking powder, sugar and salt. Add ½ cup ricotta cheese, egg and ¼ tsp vanilla extract and mix well to form a thick batter.
3. Spray the air fryer basket with nonstick spray. Place 8 spoonfuls of batter into the fryer basket and cook for 5 minutes, until puffed and golden. Remove from fryer basket with tongs and repeat with remaining batter.
4. In a small bowl combine remaining ¼ cup ricotta cheese with yogurt, ¼ tsp. vanilla extract and chocolate chips; mix well.
5. Dust zeppole with confectioners' sugar and serve with dip.
Nutrition Info Per Serving (2 pieces with dip) Calories 99;  Total fat 4g; Carbs 11g; Protein 5g
Excerpt from Healthy Air Fryer Cookbook (2017)