Slow Cooker Cha Cha Chicken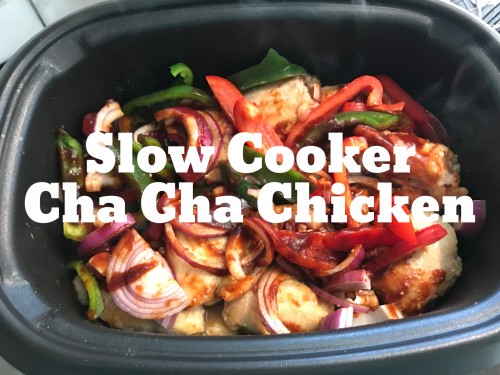 I gave one of my most popular recipes a few upgrades! Replace the flour with cornstarch to make a gluten free version.
1 cup all purpose flour
½ teaspoon kosher salt
1 large package boneless skinless chicken thighs (approx 1.75lbs)
2 teaspoons olive oil
1/2 cup barbecue sauce (Trader Joe's Kansas City Style BBQ Sauce recommended)
Juice of one orange
1/4 cup 100% apple juice or apple cider
½  red onion, sliced
1 green or red bell pepper, sliced
¼  teaspoon black pepper
Place flour and salt in a large resealable bag. Add chicken and toss to coat. Heat oil in a skillet or slow cooker with a browning function. Shake excess flour from chicken and (in 2 batches) brown on both sides (it takes about 2 to 3 minutes per side).
In slow cooker combine browned chicken, BBQ sauce, orange juice, apple juice, onion, bell pepper; stir to combine. Cover and cook on LOW for 8 hours or HIGH for 4 hours. Shred meat with a fork before serving.