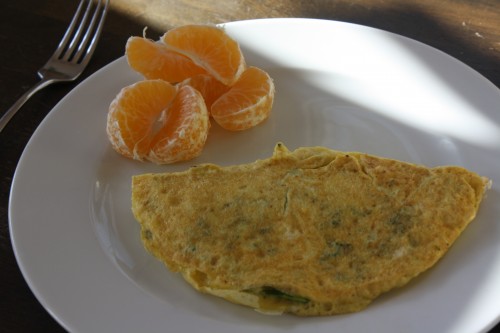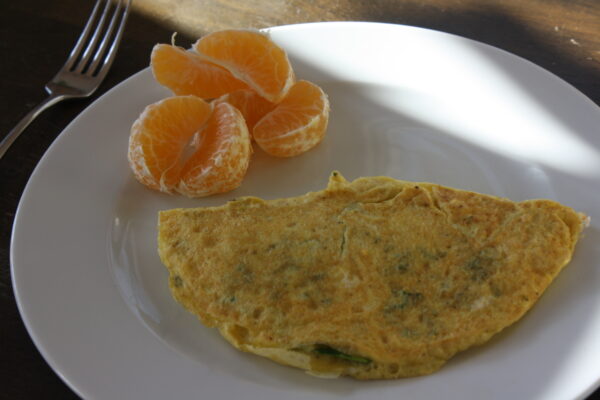 This omelet's name is derived from one of our favorite
movies, Disney's Ratatouille. Once I suggested
"Let's make an omelet like Remy does," the kids were
sold. We make it with basil ( just like in the movie),
but anything goes!
2 large eggs
1 tablespoon water
Kosher salt and black pepper
1 tablespoon chopped fresh basil
1 ounce shredded cheese
Heat a nonstick skillet over medium heat. Combine
eggs and water in a bowl, season with salt and pepper
to taste and whisk well. Add basil to egg mixture. Spray
a nonstick skillet with nonstick cooking spray. Add
eggs and cook for 2 to 3 minutes, until eggs begin to
set. Using a spatula, gently pull in the sides of the omelet
to let the uncooked egg run to the edges of the
pan. Sprinkle cheese evenly on top and gently fold in
half. Allow to cook for 2 to 3 more minutes, until eggs
are completely set and cheese is melted.
Nutrition Information per Serving
Calories: 255, Total Fat: 19 grams, Saturated Fat: 9 grams, Carbohydrate:
2 grams, Sugars: 0 grams, Protein: 19 grams, Sodium: 426 milligrams,
Cholesterol: 397 milligrams, Fiber: 0 grams
Adapted from First Bites: Superfoods for Babies and Toddles