Lifting Up Leftovers: Pork Fried Rice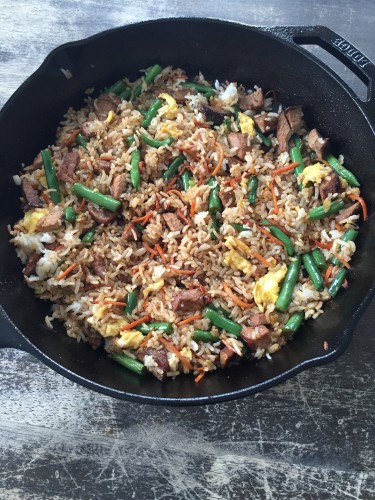 My go-to dinner when I've got leftover pork or rice on hand!
Pork Fried Rice
Serves: 4
2 teaspoons sesame oil
1/4 cup low sodium soy sauce or gluten free tamari
2 tablespoons rice vinegar
1 tablespoon granulated sugar
2 teaspoons cornstarch
2 tablespoons canola oil, divided
1 large egg, beaten
6 oz cooked pork tenderloin
2 cups chopped green beans
1 cup grated carrot
4 cups cooked brown rice
In a small bowl whisk sesame oil, soy sauce, rice vinegar, sugar, and cornstarch; set aside.
Heat one tablespoon of oil in a large skillet or wok over high heat. Add egg and gently scramble; remove from pan and set aside. Heat remaining oil in skillet; add pork and vegetables and cook for 2 to 3 minutes. Add sauce and cook for 2 minutes more. Add rice and egg. Continue to cook, stirring frequently until all ingredients are heated through, about 5 minutes.
Nutrition Info Per Serving
:
Calories: 421
; Total Fat:  14 grams; 
Saturated Fat: 2 grams
; Total Carbohydrate:  60 grams
; Protein: 19 grams; 
Sodium:  848 milligrams
; Cholesterol:  71 milligrams
; Fiber:  6 grams