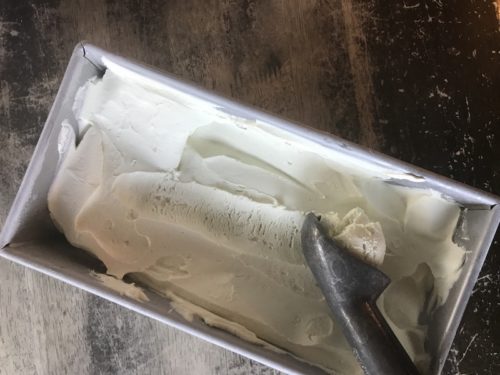 Make a batch of cold and creamy green tea spiked ice cream to cool off this weekend. No machinery needed! Matcha green tea powder is filled with cell-protecting antioxidants and has a subtle earthy flavor that is perfect with vanilla. I first made this for a July 4th celebration served atop a blueberry crostada– needless to say my guests were pleased. A 1/4 cup serving on top of a fresh fruit dessert is all you need.
No Churn Matcha Ice Cream
Makes 20 (1/4 cup) servings
2 cups heavy cream
1 (14oz) can sweetened condensed milk
2 tablespoons matcha powder
2 teaspoons vanilla extract
Using a hand mixer or stand mixer, whip the cream until soft peaks form (like whipped cream for a sundae). In a separate bowl whisk the sweetened condensed milk, matcha and vanilla until well combined.
Using a rubber spatula, pour the matcha mixture into the whipped cream and gently fold until combined.
Pour mixture into a freezer safe bowl (I like to use a standard loaf pan), cover with a layer of parchment paper directly on the top of the mixture.
Place in the freezer for at least 6 hours or overnight.
Calories: 155; Total fat: 11g; Saturated Fat: 6g; Carbohydrate: 13g; Protein: 2.5g