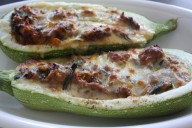 A deliciously easy main course featuring this garden fresh favorite! Looking for something new to do with all that zucchini? Here you go!
Baked Stuffed Zucchini
Serves 4
1 large zucchini (or 3 medium)
Olive oil
Kosher salt and freshly ground black pepper
1 pound lean ground beef
1 clove garlic
1/2 onion, chopped
1 bell pepper, chopped
2 cups chopped kale
3/4 cup marinara sauce
1 cup chopped fresh basil
Shredded part-skim mozzarella cheese
Preheat oven to 350F. Cut zucchini in half lengthwise. Scoop out the flesh with a spoon (you can also use a melon baller or julienne peeler); reserve what you've scooped. Place zucchini on a sheet pan – cut side up – drizzle with olive oil, salt and pepper. If zucchini is tipping over, gently cut away a thin slice off the bottom to help it lay flat.
Heat 1 tablespoon of oil in a large skillet —add ground beef; season with salt and pepper and cook until browned. Add reserved zucchini along with garlic, onion and bell pepper; sauté for an additional 2 to 3 minutes. Add kale and marinara sauce and cook for about 5 to 7 minutes more or until veggies are tender.
Fill zucchini with meat mixture and top with shredded cheese – bake for 20-25 minutes, until cheese is bubbly and zucchini is tender. If looks like the cheese is browning before the zucchini is cooked, cover top loosely with aluminum foil and continue to bake.