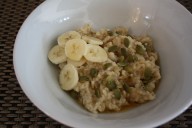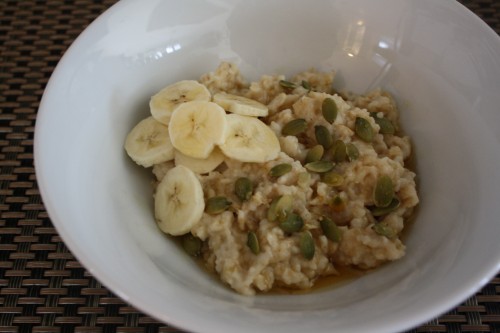 Start your day off right with this satisfying breakfast!
Serves: 4
2 cups rolled oats
¼ teaspoon kosher salt
2 tablespoons light brown sugar
4 cups skim milk
1 cup 2% plain Greek yogurt
8 teaspoons maple syrup
Topping suggestions: sliced banana, pumpkin seeds, granola, raisins, chopped apple
In a medium saucepan combine oats, salt, brown sugar and milk. Bring to a simmer, reduce heat, and cook for 5 minutes stirring frequently until thick and creamy. Add yogurt, stir well. Transfer to 4 bowls and serve topped with 2 teaspoons maple syrup and other toppings if desired.
Nutrition Info Per Serving
Calories: 331; Total Fat: 5 grams; Saturated Fat: 2 grams; Total Carbohydrate: 56 grams
Sugars: 29 grams; Protein: 18 grams; Sodium: 219 milligrams; Cholesterol: 9 milligrams
Fiber: 4 grams